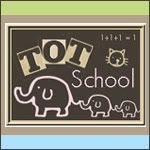 Isaac is 28 months

I am finally posting another Tot School post! We recently got back from spending a week with our families and are now getting back into the swing of things. These Tot School photos were taken the week before we left for some R & R. (I found some great Tot School goodies this week at Wal-Mart and we're using them this week! Can't wait to share!)

There are some days that I work and work with him and wonder if he is really getting it, and then there are days like this past week when he does something on his own and I say "YES!!" he is really getting it! We have been focussing on colors and numbers alot in the last few weeks. He can readily match up his colors the first time around, then after that he just starts mixing and matching :-P His vocabulary is growing DAILY! but he still does not vocally tell me what color something is. If I hold up two colors and ask him which one is green, he almost always gets it. I think he is going to be a man of few words ;) Which is more than fine.... I think his sister is going to talk enough for the both of them! Overall he is doing great and the time we have spent in Tot School reminds me why I am a stay-at-home mom - to spend that quality one on one time with my kids. At this point, Isaac and I normally have our time together while Miriam is taking her morning nap. I had debated about doing this or not, knowing that she would be picking up on some of this too as we went along. This morning kind of showed me that I still need to be doing it one-on-one with Isaac for a while longer. Miriam was into EVERYTHING! and wanted to pick up and chew on all the pieces while I was trying to work with Isaac. So for now, I think just me and Isaac time is needed. (At least for me to keep my sanity) As we go along, I want to start off with circle time with music, (learning children's songs, hymns, and praise songs) memory verses, and eventually calendar time. When we get to that point, I will probably have Miriam with us and then put her down for her nap after that and continue with Tot School just for Isaac. So we'll see how it goes.....now for the part you've been waiting for....pics of my cute kiddos ;)


I am loving the Dollar Tree! I have been finding some fun stuff to use for Tot School. It is hard to see in this pic, but these are animal matching cards that I made out of bulletin board border. I just cut a few strips and have plenty more uncut strips to use later when these get torn up ;)
My mom found this Little Touch Leap Pad a while ago somewhere (either Consignment or Yard Sale) We absolutely love it! A couple of months ago we went to one of our favorite kids consignment stores and found four more books to go with it!
The book that he is doing is the ABC book. As we were going through the book, he would touch one object on the left page, and then touch the matching object on the right page!! I was blown away by this, because he had never done that before and it was completely without my prompting.
I found these flash cards at the Dollar Tree. I didn't have a picture of Isaac and I using them, but thought I'd share them anyway. We do not have a regular TV hooked up, so Isaac has never seen Sesame Street, but yet he loves Elmo! I'm not quite sure how he recognizes him or where he has seen him at. So these cards are a big hit because they have Elmo on them ;)
We found this LeapFrog Alphabet Train at a consignment shop a while back . We bring it out on occassion for Tot School times. It has alphabet blocks that set in one of the cars. As the train goes around the track it sings a song pertaining to that letter. This is a big hit at our house because Isaac loves "choo-choo's"
I love Miriam's face in this picture. She is looking slightly mischevious. Like she just took her brother's train off the track and hopes she doesn't get caught.
I found this poster at the Dollar Tree and used my "crayons" from a file folder game for him to match up.
Maybe I should have just said at the beginning that almost everything is from the Dollar Tree ;) Isaac and I work together....or um....I mostly work on putting the puzzle together. At this point I know he is not able to put it together much, but as I am working on it, I show him how to match up the colors and the shapes. We talk about finding Pooh and Tigger's eyes and nose. So the goal at this point is exposure (and mommy time ;)
I printed off these fun Gumball Printables from Erica at
Confessions of a Homeschooler
. We used them for working on our colors and counting. In the next few weeks my goal is to start working on the alphabet using Erica's downloadable curriculum. For a small fee, you can download (or order a CD) of her entire A-Z set, plus game instructions, and lesson plans. She has some great stuff and I have already used some of her printables with Isaac. You can still print off her things individually for free.
When I printed off the Gumball machines, they also came with this sheet that you could cut out the colored gumballs to match the machines. I was going to use pom-poms instead and so did not cut them out. Isaac saw the sheet and asked for it. When I gave it to him, he started placing the correct colored pom-pom on top of the circles!! This was one of my "YES!!!" moments! He continually blows me away.
That is all for now. My diapers are finished in the washing machine, so set them out to dry and head to bed.